News
September and October Promises Exciting Works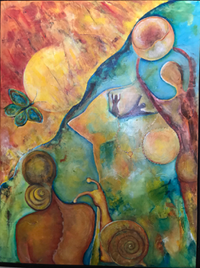 A NEW LEAF GALLERY 

Join Us to Honor Four Featured Artists!

A "First Friday" Reception

Friday, September 6th, 5-8pm
Meet Featured Artists: Painters, Cara Good and Bronwen Valentine; Jeweler, Rejane Pratelli: and Sculptor, Darcy Meeker
By Cielo Sand Hodson
A NEW LEAF GALLERY invited the public to join us Friday, September 6th, to showcase four inspiring artists: Cara Good, Painter; Rejane Pratelli, Jeweler; Darcy Meeker, Sculptor and new Gallery Artist; and Gallery Artist, Bronwen Valentine, Painter!  Their exhibits will be featured at the Gallery for all of September and October.  We invite visitors to our Fine Arts Gallery inside The Station at Suite J (just across the street from the Country Store). https://anewleaf-gallery.com (Gallery hours listed below).
Paintings by Cara Good are bold calls for hope and optimism in the face of real, often painful challenges for all life across time zones and borders, on land and sea.  She skillfully uses painting to express the hard realities facing Earth's flora and fauna which run parallel to our own human stories - with moments of convergence.  Heavy in symbolism, her paintings portray a redemption that can be had when we personally feel the inter-connectedness with all living things.  
As a teacher supporting speakers of other languages in Floyd County classrooms and on her canvas, she creates a space for deeper reflection, expression, and storytelling.  Cara's previous exhibitions include Jacksonville Center for the Arts, Artemis, Oddfellows, "Women's Work: Re-imagined Art Show", and the Floyd Artists Association. 
Jeweler, Rejane Pratelli's work, first and foremost, is about what it means to be human; to be unique, irrational, beautiful, flawed, ever-changing, and perfect in our many imperfections.  Rejane explains that hand fabrication is her way to "break the rules of joyless, industrialized jewelry and to bring back the Japanese concept of wabi-sabi (beauty in imperfection) to the ornaments we fall in love with and that express the individuality of each wearer."
A fulfilling career as a scientist took her to various countries an dcontinents, fill a treasure chest of artistic, natural, cultural, architectural, human experiences.  In 2013, severe health complications forced her to reconsider her life choices.  Learning the craft of metal-smithing was first a part of the physical recovery process for her, and ultimately a path to finding peace of mind and a new sense of purpose.
Rejane enjoys playing with negative spaces and contrast - dark/light, rough/smooth, organic/metallic - with the addition of gold leaf, pearls and gemstones to her pieces.  She explains, "Combined together, textures, contrast, negative spaces and embellishments are simply what we encounter daily on that bumpy road called life.  But with every new piece a new field of possibilities opens up, a new adventure awaits."
Sculptor, Darcy Meeker uses stone, clay, silk, aluminum and copper.  She creates art from nearly anything she can find.  She also paints, does collage and creates prints with a variety of material with the same wide-ranging enthusiasm.  Her goals with public art are attention to intricate detail and dramatic impact.
Darcy is not afraid to take risks.  She was diagnosed with myotonic muscular dystrophy at the inception of her path as a professional artist, requiring her to continually adapt her methods to her body's changing abilities.  In addition, she had a stroke nearly a decade ago.  Instead of closing her studio, sh focused on kinetic public art installations with her design and fabrication team, The Color Project TM.  Her "Lollipops" will be installed this fall in Portland, Oregon and East Chicago, Indiana.
Her public art commissions include the Baptismal Font and Easter Cross for St. Vincent de Paul Catholic Church in Baltimore and "Elephant Vine," a large public sculpture for General Electric in Schenectady, New York.  She has been commissioned by private collectors from coast to coast.  She participates in ongoing solo and group art exhibitions.
Painter, Bronwen Valentine, sees magic everywhere.  From ancient oceans to soaring skyscrapers, she sees the beauty of nature and form.  She grew up exploring the secret places of the Blue Ridge Mountains, immersed in the music and the community.  Her travels have taken her to amazing secret places throughout the world, eventually bringing her back home to Floyd.  Bronwen explains that her paintings are "a dance between free form visionary color and delicate hand drawn precise design.  I strive to communicate the essential energy of a place or object - the feeling of a precious moment."
Leave a comment (all fields required)
Comments will be approved before showing up.