News
Bronwen Valentine - Featured Through September!!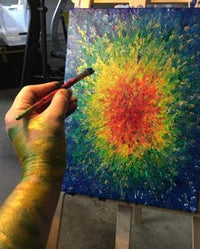 Painting and other artistic expression have been a part of my life for as long as I can remember.  My parents (both artists and musicians) encouraged and nourished my creative spirit.  I grew up exploring the lovely secret places of the Blue Ridge Mountains, immersed in the music and culture.  I studied architecture and art history in college and was lucky enough to travel to many ancient and moving places.
As an adult I have been blessed with many opportunities to experience adventures and learn about different cultures and places.  Eventually, the mountains called me home to Floyd, VA.
Architecture, both ancient and modern, inspire my designs.  I find music, dance, sacred geometry, spirit animals, henna, mandalas, Celtic Art, antique lace, fire, community and family to be my muses.  I'm forever in awe of the beauty of the natural world, from oceans to forests, deserts to waterfalls, mountains to stars.
My style combines free-form abstract painting with hand drawn precision visionary designs.  I strive to communicate the essential energy of a place or object, the feeling of a precious moment.
                      
Leave a comment (all fields required)
Comments will be approved before showing up.