News
"First Friday" Reception - July 5th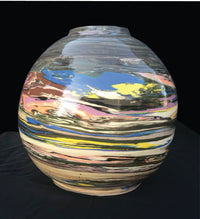 by Cielo Sand Hodson
A NEW LEAF GALLERY invites the community to meet two colorful
storytellers who use paint and pottery as their expressive medium.
Painter, Cheryl Miller Lackey and Potter, Timothy Porter will be available
to talk about their Art at the First Friday Reception, Friday, July
5th, 5-8pm. Their exhibits will be featured at the Gallery for all of July
and August. We invite visitors to our fine arts Gallery inside the Station
across from the Floyd Country Store in Floyd, Virginia. (Gallery
information below)
CHERYL MILLER LACKEY is an artist living in Botetourt County, Virginia.
She is currently a member artist at the Gallery by the James in Buchanan,
Virginia. Cheryl grew up in rural Augusta County, Virginia. She obtained her
Masters of Business Administration from Eastern Mennonite University and
her undergraduate degree in Business from James Madison University.
She enjoyed a career in finance and accounting until her retirement on February
1, 2016.  Cheryl has always wanted to paint and thoroughly enjoys this new chapter
of her life. Her love of old barns, buildings, people, and places with a story
to tell is a main theme to her paintings. She captures almost perfectly the
feel and texture of the rural landscape. The artist's work can be followed on
her Facebook page and website: www.artworkbycherylmillerlackey.com.
TIMOTHY PORTER was introduced to the ceramics community in 2009 at
a summer workshop program. His curiosity about this art form led him to
participate in two residencies, teaching ongoing classes and exploring a variety
of firing possibilities. Six years later he was accepted into his first
show where his work was featured among one hundred other vendors.
Timothy's work is strongly influenced by his living environment. He recreates
the inherent beauty into his ceramics through composition, weight and
balance. He uses firing effects to express the weathering of an old barn
door or the lush greens of a spring meadow. The high mountains and the
eastern pottery capitol of "Seagrove" inspire his color palette and the forms
and structure of his vessels. Texture plays a major role in his process. He
is influenced by the slick edges of the mountains, the ocean waves or the
rays of sun as it sets beneath wandering clouds.
Timothy's work is currently showcased in galleries, boutiques, restaurants
and Fortune 500 companies throughout the United States. Collectors and
new buyers can also visit his website and learn more of his story as an artist,
father and avid outdoors-man in rural North Carolina. More on Timothy
Porter can be found at his website www.tlpfireart.com.
A NEW LEAF GALLERY invites visitors to our Fine Arts Gallery inside
the Station across from the Floyd Country Store. The Gallery offers fine
art originals and prints in all media, sterling silver jewelry, note cards, pottery,
books by local authors and gifts. New guest artists' exhibits are
scheduled every two months. For information on classes, our Guest Artist
program and other events, call 540-745-7367
Hours: M, W, Th, & Sat,11- 5pm; Fri,11- 8pm; Sun,12 - 4pm
Leave a comment (all fields required)
Comments will be approved before showing up.