News
"A Celebration of Spring" and our New Beginnings!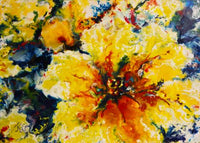 By Cielo Sand Hodson
A NEW LEAF GALLERY,formally known as Floyd Artists Association LLC, has reorganized with a fresh new look to our Gallery. In celebration of our New Beginnings, join us Friday, May 3, 5-8pm, for "A Celebration of Spring," honoring three exciting artists: Lois Babb, painter, Jayn Avery, potter and Karen Sewell, painter.  
LOIS VIRGINIA BABB features floral paintings created from life. "To a still life painter, Spring is very 'urgent' as almost everything blooms at once and life must be put on hold to capture their fleeting beauty before they are gone. This 'urgency' lends an air of excitement as the artist strives to create quickly."
Lois Virginia attributes her love of nature to growing up in Virginia's beautiful Blue Ridge Mountains. The artist within her was born of a childhood spent outdoors freely running and playing with siblings and cousins. It was a Christ based childhood leading the artist to a lifelong desire to show others the beauty she saw in Gods creations. The artist has lived and worked in many places but the lure of the mountains has always brought her back.
She began studying art at Radford University.  However she followed a path of traditional art and has studied with several of Americas foremost living artists, including Dan Gerhartz and Tom Browning.  In 1987, while living in Pawleys Island, SC, she left a career in public relations and began earning her living primarily as a professional artist.
Early on, her art was nationally published in prints with several open editions selling into the thousands. In recent years she has focused primarily on original oil paintings. She is one of those artists equally interested in all subjects including the landscape, and the figure, including children and animals. Her career has garnered many accomplishments: She co-founded of The Blue Ridge Plein Air Painters. Her work is part of the founding permanent art collection of Liberty University. In 2017, the University honored the artist with a retrospective of her life's work entitled: "Impressions of Life"
The artist currently lives and paints along the Blue Ridge Parkway in Bedford Co. VA. She often creates in Europe and along the Southeast Coast. To see the breadth of her work visit: www.loisvirginiababb.com  or Facebook: Lois Virginia Babb Fine Art.
JAYN AVERY.Her first discovery of pottery was seeing and touching the old 1800's jug by the fireplace in her grandmother's Connecticut home. The feel of the rough, heavy stoneware fascinated her. In contrast, she was drawn to the  lightness and color of Navajo earthenware pottery that her parents brought back from a rare family visit to Arizona.
While studying wildlife conservation and rural sociology at Cornell University in upstate New York, she happened to stop by the student pottery shop where the smell of clay called to her. She took a beginner's pottery class and discovered the soft canvas-like quality of the rolled out clay. Her creative mind awakened.  
An instructor encouraged her to become a serious potter and she was taught the actual business from a potter who took her under wing. Her work as a professional potter began in Ithaca NY in a rented studio with a kiln. On a trip back from craft fairs in North Carolina, she met a local potter, Ellen Shankin, and was drawn to Floyd County. For the last 38 years she has lived a simple life close to the land. It is in these mountains that she continue to discover the broad expressions that are possible in clay. blueheronpotterystudio.com
KAREN SEWELL.Color and texture are Karen's passion and drive her aesthetic.  Inspiration comes from observing the small vignettes in everyday life that touch her soul.  Working in various mediums and genres, a special love of portraiture as well as intimate landscapes has developed. Capturing that moment in time is important to her as she feels it is never exactly repeated.  Karen is a Floyd native and one of the founding members of the Floyd Artists Association LLC, now A NEW LEAF GALLERY.  The interactive experience of instructing students in portraiture, perspective, value and composition (PVC), and color theory enrichKaren's work as she endeavors to pass on her love of creating.www.karensewellfineart.com
A New Leaf Gallery invites visitors to the newly designed Gallery inside the Station across from the Floyd Country Store. The Gallery offers fine art originals and prints in all media, sterling silver jewelry, note cards, pottery, books by local authors and gifts. New guest artists' exhibits are scheduled every two months. For information on classes and other events, call 540-745-7367. Hours: M, W, Th, & Sat,11- 5pm; Fri,11- 8pm; Sun,12 - 4pm
Leave a comment (all fields required)
Comments will be approved before showing up.