News
May Through June, A New Leaf Gallery is the Place to Be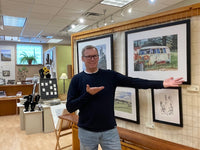 A New Leaf Gallery invites you to our First Friday Reception, May 6th, 5-7pm. Meet our talented guests, clay artist, Aven Tanner and Kevin Deck, figurative and abstract watercolorpainter. Our guests will be exhibiting with us May thru June.
Kevin Deck is a full time architect and a weekend painter working and living in Roanoke, Virginia. His work begins with "seeing with a desire for discovery, revelation, and immersion." Kevin paints what interests him -  things that jump out of the ordinary, the mundane, the overlooked or forgotten. Currently he uses transparent watercolors with a mix of pen and ink washes. His figurative works include natural and urban landscapes, regional subjects and works inspired by travel. His abstract paintings are inspired by compositions found in his completed works or in his photography.
Aven Tanner works in various mediums, but is most at home working with clay. She remains inspired by the stylized nature designs of the Pueblo people of the Southwest. Like the Pueblo people, she works with low-fire earthenware clay and hand builds all of her pieces. "I use hand-built methods such as coiling, pinching, sculpting, slab building and pressing textures to create my intuitive pieces. Firing at a low temperature has less environmental impact and I enjoy the challenge of creating the beauty of high fire glazes on low fired clay. I also enjoy treating the surface like a canvas in my use of stains and underglazes. These ancient methods of building with clay and the slow process of creating this way reminds me of my connection to the earth and keeps my winged spirit grounded."
Aven is a graduate of Radford University and has been teaching Art  K-12 for 20 years, currently teaching at Floyd County High School.
A New Leaf Galleryinvites visitors to our Fine Art Gallery inside the Station across from the Floyd Country Store in Floyd, VA. The Gallery proudly offers fine art originals and prints in all media, photography, sterling silver jewelry, note cards, pottery, books by local authors, and gifts. New guest artists' exhibits are scheduled every two months. For more information on events, please call 540-745-7367.Hours: Wednesday - Saturday 11 - 5, and Sunday 12 - 4. (https://anewleaf-gallery.com
Leave a comment (all fields required)
Comments will be approved before showing up.