News
A New Leaf Gallery Unveiling FUNDRAISING TREE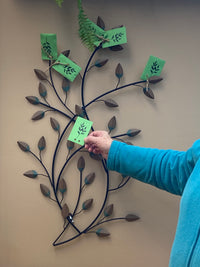 A New Leaf Gallery, in observance of Arbor Day, April 29th, and our long-
standing mission to support our Floyd County High School Art Department
(FCHS), our fine arts gallery unveils a Fundraising Tree, its limbs holding
small leafy green envelopes for our visitors generous donations ($1's, 5's,
10's, 20's). Once every year the Fundraising leaves will be harvested and
the contributions given to the Floyd County High School Art instructors,
Kimberly Ingram and Aven Tanner, to help cultivate the creativity of our
youth. In behalf of these creative studens, please visit A New Leaf Gallery
SOON and OFTEN to feed the tree and watch it grow!

A New Leaf Gallery invites visitors to our Fine Art Gallery inside the
Station across from the Floyd Country Store in Floyd, VA. The Gallery
proudly offers fine art originals and prints in all media, photography, sterling
silver jewelry, note cards, pottery, books by local authors, and gifts. New
guest artists' exhibits are scheduled every two months. For more
information on events, please call 540-745-7367. Current Hours: Wednesday thru Saturday, 11- 5pm and Sunday 12 - 4pm.
https://anewleaf-gallery.com
Leave a comment (all fields required)
Comments will be approved before showing up.