News
Local artist paints 'family tree' By Ashley Spinks, The Floyd Press - Oct 12, 2020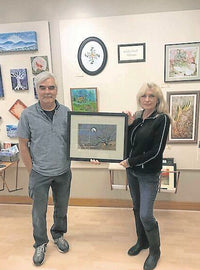 The Blue Ridge Parkway is a tourism boon for the states lucky enough to host a piece of the 469-mile scenic road. According to a 2018 report from the National Park Service, 14.7 million park visitors spent an estimated $1.1 billion in local gateway regions— such as Floyd County and the larger New River Valley— while visiting the Blue Ridge Parkway. In an interview with the Floyd Press last year, retiring Rocky Knob Visitor Center volunteer Paul Kitchen said the local stop along the Parkway sees an average of 100 visitors per day, with many more during peak foliage season in October.
Local artist Cielo Sand Hodson has always been an admirer and protector of natural beauty, and knows that the Floyd community benefits from its proximity to the Parkway. Floyd residents have the privilege of enjoying the Parkway's "beauty, along with financial benefits from visitors, even in these difficult financial times," she said. Hodson compared the Parkway to "a main artery" of Southwest Virginia.
Recently, one birch tree in particular along the Blue Ridge Parkway caught her eye. Hodson said the tree's legion of other admirers was evident when she visited. "As a testament to its dramatic presence, there is a well-worn footpath winding through the tall grasses to the magnificent tree," she said. Hodson painted the tree in a work titled "Blue Ridge Night," which she then displayed at Floyd's A New Leaf Gallery. At the gallery, it was spotted by a member of the Corkey family.
The Corkey family's relationship to Floyd and to the Parkway exemplifies so many other treasured bonds and memories formed in Southwest Virginia over the decades. Their family tradition is to gather at the same black birch captured in Hodson's painting each year, to document the family's growth and change with "family tree" photographs.
Beginning in the early 2000s, Nancy Corkey explained, she and her husband Dan would take their five young children to Floyd's Rocky Knob overlook every year on the Saturday before Easter, to fly kites and take a family picture in front of "the Corkey Tree."
As the years went by, Corkey said, more and more people were added to the picture, including relatives from upstate New York who came to love Floyd as much as she and Dan do. The couple currently lives in Christiansburg, although Corkey said they drive down to Floyd on their motorcycle nearly every weekend for lunch at Dogtown Roadhouse.
Speaking of her family in New York, Corkey said, "Floyd still, to this day, is the most favorite place for them to come; it's a big part of the vacation for them. They love the Friday Night Jamboree."
Two weeks ago, she and Dan were in Floyd and visited A New Leaf Gallery. Immediately upon walking in and seeing Hodson's painting, Corkey exclaimed, "Dan, that's our tree!" Corkey said she especially loves the moon featured above the "Corkey Tree" in the artwork. "I love the full moon. On moonlit nights, I'll stand out in our woods just to see the patterns on the ground," she said.
When she saw the painting, Corkey said, memories of her family's time with the tree came flooding back. "Immediately, I saw all my babies as they were growing up…all the memories just came back in and I said, 'I can't leave that painting sitting there, it's got to come into our house.'" She and her husband bought the painting and plan to hang it alongside years of family photographs.
Leave a comment (all fields required)
Comments will be approved before showing up.