News
Our Annual January Exhibit "Better Together"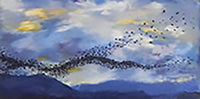 In the spirit of togetherness, each January we display our individual perspectives on a single theme, weaving them together as a way to rekindle our Gallery's collective vitality. Doing a show together reminds us that we are a part of something unique and beautiful!
This year four of our Gallery artists displayed their creative interpretations of the Theme, "
Better Together.
" In case you were unable to see the exhibit, I'm including their art and descriptions to acknowledge our appreciation for their spirit of
togetherness
and their beautiful Art! 
2D Guest Artist Coordinator
Ruth Lefko:
"Take a walk in the woods, among the trees.  It is a magnificent collection of living things.  Trees live together, communicate with each other, and help provide nourishment for survival much like human families do.  I highly recommend the following books.  After reading these, you will never look at a tree the same again.  Life is better together, even for the trees."
"The Overstory" by Richard Powers
"The Hidden Life of Trees" by Peter Wohlleben
Samantha Riggen: "The photo of two coffins stacked on top of each other is pretty straight forward. Being with a loved-one in the afterlife is a soothing thought to many people. This photo provides a concrete backdrop for that sentiment."
"Silver Lining"
Jenny Traynham: "A murmuration of starlings is when hundreds or thousands of individual starlings come together in flight, usually before roosting late in the day.  The tight formation provides protection for the birds from predators, and in this not only are they "better together", but they provide some of the most beautiful shows in nature." 
"Murmuration"
Jennifer Carpenter : "Either object would be bland and uneventful by itself, but together they create rhythm and movement between their similarities and differences, like a brother from another mother. The apple becomes an extension of the pear, maintains its own space, but adopts characteristics. If green were a burden, they now share it. If green were happiness, they spread it. We have an effect on those around us, which can be better or worse. I'd like to think in this case, these two are better together."
"Glass Pair"
Leave a comment (all fields required)
Comments will be approved before showing up.