News
Annual Floyd High School Exhibit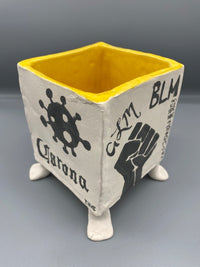 A New Leaf Gallery invites you to visit our Fine Art Gallery to explore this year's Floyd High School Art Student Exhibit. Each year we honor our two dedicated art teachers and their students with an exhibit in our gallery. Ordinarily, we would host an extravagant chocolate feast to raise money for these teachers to buy much needed supplies that otherwise would go unfunded. However, with the times that we are experiencing, we cannot host the highly anticipated chocolate event. We ask that you come to the gallery anyway to view and support these extremely talented students.
The students were given an assignment to interpret, 'How the time has been for them'. I'm sure we can all conjure up immediate thoughts and emotions that this difficult year has bestowed upon us. Isn't it intriguing to find out how these young people see the world around them? Most students have probably enjoyed their time focusing more on family and activities they enjoy instead of the hectic life of sports and school. So, please help us encourage them and support these talented students by stopping in and sharing their experiences with us.
A New Leaf Galleryinvites visitors to our Fine Art Gallery inside the Station across from the Floyd Country Store in Floyd, VA. The Gallery proudly offers fine art originals and prints in all media, photography, sterling silver jewelry, note cards, pottery, books by local authors, and gifts. New guest artists' exhibits are scheduled every two months. For more information on our classes, guest artist program, and other events, please call 540-745-7367.
Current Hours: Friday 11 – 5, Saturday 11 – 4 and Sunday 12 - 4
https://anewleaf-gallery.com
Pictured Above:
Pottery by Kerrie Bergstrom, 2020

Corona Virus by Mary Burnette, Mixed Media

Behind the Pandemic by Liam Burke, Colored Pencil
Leave a comment (all fields required)
Comments will be approved before showing up.