News
Meet our New Leaf Artist - Daniel Robertson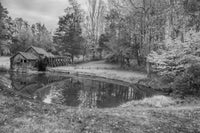 I have always been inspired by the outdoors. Moving to Alaska in 2015 helped me to gain a greater appreciation for nature and the inspiration that can be found there.  Alaska holds many surreal landscapes that often left me breathless in their sheer size and beauty. There I was able to develop as an artist by working to embrace the grand landscapes as well as to search for the more intimate scenes. Whether it is the rocky peaks of Denali, a flowing waterfall through the forest, or a trail in the Blue Ridge Mountains. My goal is for each photograph is to capture a feeling in a moment that echoes the beauty of the scene.
Leave a comment (all fields required)
Comments will be approved before showing up.