News
A New Leaf Gallery Has a New Leaf!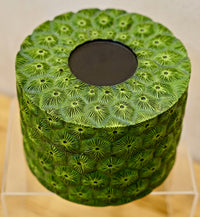 Please welcome Bob Rotche as our newest addition to the New Leaf Gallery!
"I have been working with wood in one way or another for most of my life. It was in 2010, however, with my introduction to the wood lathe that my passion for the artistic side of woodworking began to take shape. I learned to appreciate the beauty of a perfect curve or a subtle texture. With further exploration of carving and color, I realized the limitless potential of this medium that I have come to love. I still use the lathe regularly but at this point most of the work is done off the lathe. I work with both free-standing sculpture as well as relief carved wall hangings and continue to feel the excitement of creative possibility every time I set foot into my shop."
--BOB ROTCHE
Leave a comment (all fields required)
Comments will be approved before showing up.