Under the Leaf
UNDER THE LEAF with colored pencil artist JENNIFER CARPENTER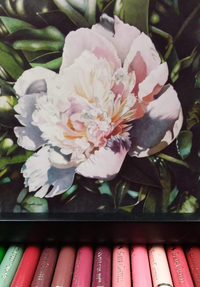 Our first "Under the Leaf"discovery session will be with colored pencil artist Jennifer Carpenter. She is our current Gallery Member Featured Artist. Jennifer is quite the character and I very much enjoy her humor. I started by asking her about her favorite piece, the one she has created that had the most meaning and that morphed into a simple, basic question about color which was very interesting and enlightening. For that reason, I'll only share that portion of our conversation for now. Having taken place via Facebook messenger I think for clarity I'll present it in interview format.
Selena:  Jennifer, what's your favorite color? Why? Do you find yourself using that color more in your artwork or do you tend to choose subjects with those colors?
Jennifer:  Oh this is an easy one! Top secret information, but the answer is yellow orange! Ha! Didn't see that coming, did you?! It elevates the visual experience, I think. It might be unexpected and perhaps completely inappropriate, but in all cases it adds something you may like, without knowing why you like it. Maybe from a sunset. A sunrise. Lights glowing from the neighbors house on a snowy night. A fire in the fireplace. It's a magical color. It's like that one ingredient you accidentally leave out when somebody you don't like asks for your recipe. But I like you 🤭 (She's a hoot!!)
Jennifer: THAT color. The color in the house changes as the sun rises through one set of windows and sets through another. In the evening, the night sky appears cobalt blue, which is stunning with the "Peach Butter" walls.
Selena: Oh, that's awesome!! And...you surrounded yourself in the "magic" because it makes you.....????
Jennifer: Happy!
Selena:  and there you go! Just curious, does Neil like it? (Neil is her hubs)
Jennifer: Neil is color blind.
Selena: Ah. Okay. So Peach Butter is the name. That's cool! Would you put that color in your studio? Why or why not? or how?
Jennifer: No to having it in the studio because it casts an orange glow. And Yes. That's the paint name, Peach Butter. Primacolor (one brand of colored pencils she uses) calls it Spanish Orange. My studio is pale, pale, pale, pale yellow…again warm and happy.
Selena: Do you use Spanish Orange often in your artwork?
Jennifer: Always.
Selena: Okay, I just looked at "Handle with Care." I think I see it. Did you use it in that one?
Jennifer:Yes…it adds flavor to the ordinary red and makes skin tones glow. Picked out another in progress, the glass bird. See the thing is, colors like Spanish Orange and similar red/orange/yellows are waxiest and other colors can't go on top, so these get added at the end.
Selena: Okay. Could you create something small/quick, something fun, happy using that color dramatically OR subtly and unexpectedly…maybe? Please?
Jennifer: A video?
Selena: Hmmmmmmmm? I was thinking tiny art but…you've got ideas, let's see what happens. (She actually does both…more later!)
Jennifer:This is one of the BEST examples of Spanish Orange in an unexpected application. Pink Peony…orange made the petals POP. That was my first painting as a Carpenter. I like that it's sitting on pencils of the same palette, but that's a photo of a professional photo I had taken.
Selena: Prints available?
Jennifer: No.
Selena: Never, ever?
Jennifer: Nah…Neil owns it and he gets the only one. He wanted to own the first drawing I ever created as his wife so he bought it.
Selena: Wow. That tells me he is supportive and proud, but we'll get into that later.
Here's some of the progression pics of "the small/quick, something fun, happy" piece I asked her to consider creating for this blog installment. She also created several videos which I'll upload to our Facebook page.
Jennifer: Not sure if I'll mat and frame it, or make it a box lid, or mount it to an Ampersand Claybord to hang. It is 5x5.
Selena: Oh my goodness! It is gorgeous! How much would you sell it for and when will you decide? I'd like to include this in the blog.
Jennifer: Probably $150, $175 as a box. I want to sleep on it. Was sure I wanted it as a box lid, and that I didn't want to spend any more on frames and glass before my show. I have the boxes and mounting stuff already. But it would look sharp as a square framed piece, wide mat.  Care if I post my pansy on my art page to get opinions on whether to mat and frame?
Selena: Of course not! It is yours!
 And not 15 minutes later…
Jennifer: SOLD! for $150. Buyer wants it mounted to a deep cradled Ampersand Claybord so it can hang flat against the wall or sit on a shelf. Me thinks me needs to focus on this size for awhile!
Selena: You are welcome! (Smiling)
If you enjoyed reading this and would like to learn more about our artists please, leave us a comment here. Yes, the website requires that you leave your email address but WE PROMISE WE WILL NOT EMAIL YOU IF YOU STATE "NO EMAILS PLEASE!" We would truly like to know if this concept is worthwhile and if you'd like to see more!
Thanks,
Selena McColley
Artist, A New Leaf Gallery
Comments (1 Response)
Leave a comment (all fields required)
Comments will be approved before showing up.