News
JULY AND AUGUST FEATURED ARTISTS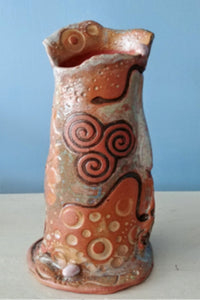 A New Leaf Gallery Welcomes:  Aven Tanner & Howard Wenger
By Bill Booz
A New Leaf Gallery is delighted to introduce you to our newest 3-D and 2-D guest artists, Aven Tanner and Howard Wenger! Take an adventure into A New Leaf Gallery in Floyd, Virginia and celebrate the World of fine art that Aven Tanner and Howard Wenger have created in our very own Blue Ridge Mountains.
Aven Tanner creates art for the same reasons a caterpillar creates a chrysalis. She aspires to be in a transitional metamorphic state protected from the outside World and hoping to emerge with wings or a lighter sense of self. Like a butterfly landing on a variety of flowers, she gets her inspiration from the many materials she works with. Clay is her medium of choice for maximum unification. "These ancient methods of building with clay and the slow process of creating this way reminds me of my connection to the Earth and keeps my winged soul grounded." - Aven Tanner (see work above)
Howard Wenger, who lives with his family in Floyd, VA draws his inspiration from many sources. He works in his vineyard, writes songs, plays guitar and studies the works of other artists.  
A New Leaf Gallery is pleased to present for auction "Mountain Susans" an original watercolor by Paula R. Melton. Bids can be placed on our Instagram, Facebook and website or at the gallery. Place your bid on this new, exquisite piece soon! Starting bid is $100.00 June 27th through July 31st.
A New Leaf Gallery invites visitors to our Fine Art gallery inside the Station across from the Floyd Country Store. The Gallery offers fine art originals and prints in all media, photography, sterling silver jewelry, note cards, pottery, books by local authors and gifts.  For information on classes, our Guest Artist program and other events, call 540-745-7367.  
Leave a comment (all fields required)
Comments will be approved before showing up.