News
Bring in the holidays with Our Talented Guest Artists!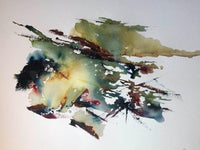 A New Leaf Gallery would like you to help us honor our new Guest Artists, Sidra Kaluszka and David Ferrell by visiting our Art Gallery. These exhibits will be on display in the Gallery Novemberand December.We will be hosting our First Friday Receptioncelebrating these two Guest Artists and our member artists on Friday November 5th from 6-8pm.
Multifaceted artist, Sidra Kaluszka,uses her appreciation for nature and natural light to specialize in both ceramics and watercolors. In 2007 she received her BFA from Virginia Tech and then graduated in 2010 with a double concentration MFA from Radford University.
Sidra has been published in several art magazines and has received Signature Membership in Virginia, Alaska and Pennsylvania Watercolor Society. Her work, both watercolor and ceramics, has been exhibited in numerous US states as well as in Japan and as won several prestigious awards.
Watercolorist and Photographer, David Ferrell,has been a lifelong resident of Pulaski County, where he resides and operates a 100-year-old farm with his brother. Studying art in high school, David received wonderful instruction that followed him throughout his life. Seeing the unique beauty on and around the farm, He started photographing the cattle, landscapes and other beautiful things around him. About 5 years ago, he was encouraged to start painting again, something he hadn't done in over 40 years. Now, he paints as much as he can. His style is always loose sometimes whimsical and shows his love and happiness for the unique eye-catching things around him.
A New Leaf Gallery invites visitors to our Fine Art Gallery inside the Station across from the Floyd Country Store in Floyd, Virginia. The Gallery proudly offers fine art originals and prints in all media, photography, sterling silver jewelry, note cards, pottery, books by local authors and gifts. New Guest Artists exhibits are scheduled every two months. For more information on classes, our guest artist program and other events, please call (540) 745-7367.
Our hours are Wednesday, Thursday, Friday and Saturday 11 – 5, Sunday 12 – 4.
We are closed on Monday and Tuesday
https://anewleaf-gallery.com
Leave a comment (all fields required)
Comments will be approved before showing up.