News
Art + Chocolate a Huge Success!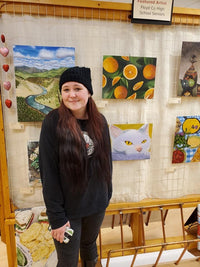 A New Leaf Gallery thanks the community and local business forsupporting its successful fundraiser for talented youth and their art teachers of Floyd County High School!
Close to $1000 was raised in this third annual fundraiser held Saturday, February 8 in downtown Floyd inside the Station. Funds are used to purchase art supplies and other necessities for the students. Art gift-baskets were raffled, door prizes won, and art, gift cards and donations from local businesses were auctioned. Guests sampled a variety of delicious chocolates while enjoying the Floyd County students' art featured in the Gallery through February, and art by A New Leaf Gallery artists .
Many thanks to these local businesses: Republic of Floyd, Subway, Blue Ridge Cafe, Hey Helen, Dogtown Roadhouse, The Floyd Country Store, Pizza Inn, New Mountain Mercantile, Cocoa Mia, Jennie O'Neill Boutique, The Maggie Gallery, C.W. Harmon, Oasis at Oak Haven, and Gallery 111.
Pictured Above:  Summer Melville is one of ten senior art students featured though February at A New Leaf Gallery.
Jessie Benson draws a raffle ticket for art-filled basket valued at $500. Kimberly Ingram, Floyd County High School art teacher holds the container of raffle tickets.
Thank you!!
Leave a comment (all fields required)
Comments will be approved before showing up.