News
A NEW LEAF GALLERY IS OPEN!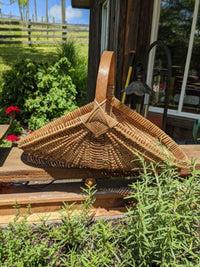 FEATURING TWO NEW GUEST ARTISTS
By Cielo Sand Hodson
A NEW LEAF GALLERY will reopen on Saturday, June 7th. We request our visitors and employees to wear masks which are available at the door. Visitors are warmly welcomed on Saturdays 11-4pm and Sundays 12-4pm.  Any changes to our open days will be noted at https://www.anewleaf-gallery.com.  This month we proudly feature the fine works of our two guests, Basketmaker Kathy Dulaney and Painter Dianne Gillis-Robinson!
Basketmaker, Kathy Dulaney, has been a basket weaver of Old Appalachian Style
Baskets for 35 years. Her baskets are strong and useful, and those Appalachian Style Baskets were just that! Kathy teaches Basket Weaving at Highland Farm by appointment and in small, private group settings. Attendees come away with a beautiful basket and knowledge of basket styles and their original uses.
Painter, Dianne Gillis-Robinson's creative journey is divided between her studios based in Anchorage, Alaska and Blacksburg, Virginia. She feels fortunate to be surrounded by either the rugged, cold beauty of Alaska or the soft rolling mountains in Virginia, both of which inspire her to express her version of beauty through paints and canvas.
A New Leaf Gallery invites visitors to our Fine Arts gallery inside the Station across from the Floyd Country Store. The Gallery offers fine art originals and prints in all media, photography, sterling silver jewelry, note cards, pottery, books by local authors and gifts. New guest artists' exhibits are scheduled every two months. For information on classes, our guest artist program and other events, call 540-745-7367. Currently the Gallery is open on Saturday 11-4pm and Sunday 12-4pm. We suggest checking our website for any changes: https://www.anewleaf-gallery.com.
Leave a comment (all fields required)
Comments will be approved before showing up.