News
A New Leaf Gallery invites you to First Friday, April 5th with Four Artists Featured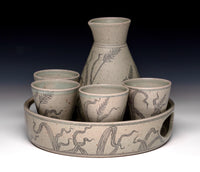 Join us for an exciting First Friday Reception, April 5th, 5-8pm, featuring fourartists this month! Ayla Mullen, Potter; George Mcdonald, Woodturner; Philip Ramsey, Impressionist Oil Painter; and Eli Tuchler, Wire-wrapped Jeweler.
 Potter, Ayla Mullen envisions her pots as vessels for storytelling which invoke thoughts, memories, and emotions that can enliven one's moment for an entire day. Clay has become her canvas and her vocabulary. She holds a BA in Environmental Political Theory and Ceramics from Marlboro College, has studied Ceramics at the Penland School of Crafts in North Carolina, and most recently completed a two year apprenticeship with Ellen Shankin.
 Woodturner, George Mcdonald is a man of the woods. He began turning wood in 2014 after retiring from carpentry contracting. He trained with Morris Schlesinger, a world class wood turner who taught him the skill of turning bowls in trade for George's home grown and foraged mushrooms. George dedicates his winters to turning fine woods into useable items that are sold from Spring to Fall at festivals and farmers markets - along with his mushrooms!
 Impressionist oil painter, Phillip Ramseyhas been painting professionally since 1991. He began as a muralist in Virginia and North Carolina and continued with that pursuit for 18 years, then shifted his focus to the fine art of original impressionist oil paintings of landscapes, cityscapes, figurative, and still life. Private Collectors from the United States, Canada, Thailand, and Malawi own commissioned pieces of Ramsey originals in addition to purchased works from several fine art galleries.
 Wire-wrapped jeweler, Eli Tuchler grew up in Blacksburg, VA  and at seventeen he began his career as an independent jeweler. Eli specializes in handmade wire-wrapped jewelry; featuring natural, authentic gemstones and crystals from countries all over the world (Brazil, Vietnam, Tanzania, Sri Lanka, to name a few). He expands his jewelry-making with various silversmithing techniques. He is currently working at P.R. Sturgill Fine Jewelry LTD. in Radford to advance his training as a jeweler.
 FAA invites visitors to the newly designed Gallery in the Station across from the Floyd Country Store. The Gallery offers fine art originals and prints in all media, sterling silver jewelry, note cards, pottery, books by local authors and gifts. New guest artists' exhibits are scheduled every two months. For information on classes and other events, call 540-745-7367. Hours:  Monday, Wednesday - Saturday, 11- 5pm; Sunday, 12 noon- 4pm.
Leave a comment (all fields required)
Comments will be approved before showing up.